The following are case studies of album designs.
---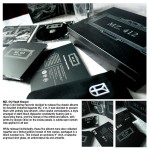 MZ. 412: Vault Boxset
When Cold Spring Records planned to reissue five classic albums by Swedish industrial legends MZ. 412, it was decided to present them with entirely new artwork. After careful consideration, a style emerged of stark black digipacks consistently bearing just a decorative frame, and the names of the artist and album, with prints by Giorgio Ghisi on the inside panels. A subtle spot varnish was applied to all text.
While reissued individually, these five albums were also collected together as a limited edition boxset of 300 copies, packaged in a black wooden box. This included an exclusive 5″ vinyl of previously unreleased tracks, a bespoke engraved shot glass, an embroidered tie and artcards.
---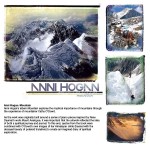 Anni Hogan: Mountain
Anni Hogan's album Mountain explores the mystical significance of mountains through the experience of mountainer Cathy O'Dowd.
As the work was originally built around a series of piano pieces inspired by Rene Daumal's work Mount Analogue, it was important that the artwork reflected the idea of both a spiritual journey and journal. To this end, quotes from Daumal's book were combined with O'Dowd's own photographs of her Himalayan climb (treated with the decayed beauty of polaroid transfers) to create an imagined diary of spiritual exploration.
---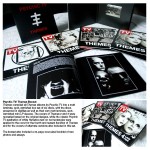 Psychic TV: Themes Boxset
Themes compiled all Themes albums by Psychic TV into a matt laminate, spot-varnished box set of six discs, with the discs presented in digifiles as well as their own matt laminate, spot-varnished mini-LP sleeves.
The covers of Themes 2 and 3 were recreated based on the original designs, while the classic Psychic TV aesthetics of white Helvetica text on red rectangles were applied to the cover for the fourth and newest iteration of Themes and for the covers of alternate versions of preceding Themes that were also included in this set.
The boxset also included a 32-page over-sized booklet of rare photos and essays.